the team behind
civil engineering academy
our mission
At Civil Engineering Academy it is our mission to help aspiring Civil Engineers pass their exams and develop the skills to be successful in their careers and in life. We are obsessed with helping you become a professional engineer and find a fulfilling career!
We are excited to help you by providing you with the best resources and material to ace your exams. We work hard to make sure our exams meet the current specifications and are life-like to the real exam. Our courses were built from the ground up to give you just what you need to ace your exams, and our support is the best you can find.
We also provide coaching to further help you with your career including polishing up your resume, creating the perfect cover letter, or standing out with your LinkedIn profile.
meet the team
Isaac Oakeson, PE
Founder
Father, Founder, Chocolate Chip
Cookie Lover. Isaac started CEA
with the entire goal of helping
engineers reach their goals. He has
struggled and found success just
like you will!

Mark Oakeson, PE, SE
FE Course Instructor
Mark has been around the
engineering block. He has
managed multi-million dollar
projects which has been his forte for
20+ years. His vast experience and
wealth of knowledge will help any
engineer grasp the concepts needed to take and pass the both the FE and PE exams with flying colors because he practices the concepts on a daily basis

Fransisca Wijaya
Engineering Support and
Content Creator
Fransisca Wijaya is a principal
structural engineer in Indonesia.
She has vast experience in
commercial buildings, residential
buildings, and designing steel and
concrete reinforced structures. She
is a trusted engineer and has helped to tutor many civil engineers taking the civil engineering PE exam. She has vast experience with all structural codes and standards and loves to help.
Jason Chao, PE
Contributor
Jason Chao obtained his masters
degree in civil engineering from
Texas A&M University in 2017 and
has been working for a consulting
firm since March 2018 as a heavy
structural engineer. He loves
designing foundations and marine structures as well as general reinforced concrete, steel, and wood structures. He passed the PE exam in California in 2018 and has joined Civil Engineering Academy as an important contributor, producing solid, in-depth example problems in order to help other engineers beat the PE like he did.

Maithili Dey
Contributor
Maithili has five years of
experience in the civil engineering
industry principally working in the
construction of cyclone shelters in
Bangladesh funded by the World
Bank. She was part of a team of 46
professionals who provided modern facilities for cyclone-affected people, which included the installation of tube wells, solar panels, and rainwater harvesting systems. When she isn't working she is reading mystery books and watching literary dramas.

Andy Richardson, PE
Course Creator
Nearly 25 years in the structural
engineering industry, Andy has wide
exposure across various industries
and includes highly specialized
technical expertise. His diverse
resume provides experience in
nearly any material, building type, or structure. Living in the Lowcountry of South Carolina since 1998, he has acquired expertise in both hurricane design as well as the seismic design of buildings. Over the past 10 years, Andy founded and operated his own engineering firm and provided engineering education for the PE Exam. He joined the CEA team in 2020 and has helped to create the civil PE depth courses.
grab these
free resource
guides now!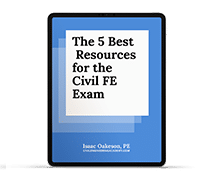 The 5 Best FE Resources for the Civil FE Exam
SEND IT TO ME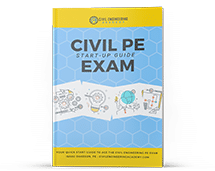 The Civil PE Exam Startup Guide
SEND IT TO ME