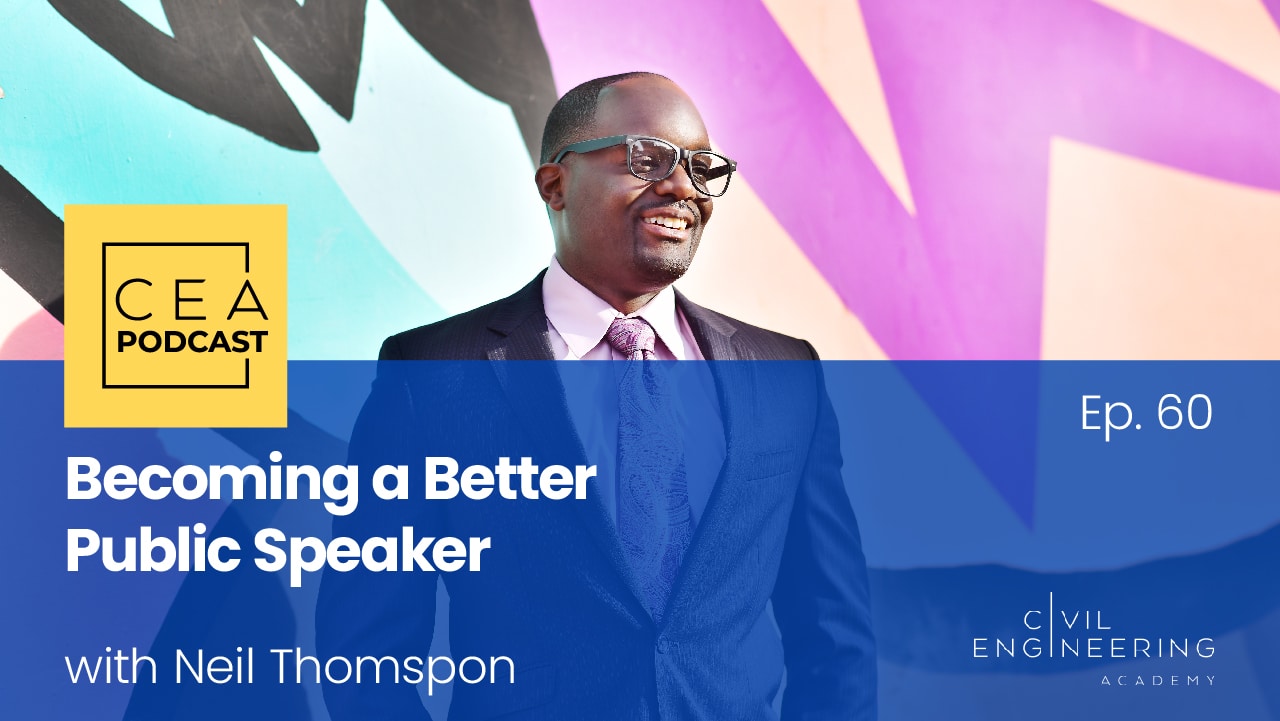 Introduction
Civil engineers, as with all the other professionals within the STEM sector (Science, Technology, Engineering, and Mathematics), are undeniably more comfortable with the "hard skills" they are required to learn in school than they are with some, if not all, "soft skills". However, once they start working, they realize that these soft, interpersonal skills can be just as valuable for their careers as their math-focused, college-trained competencies. Or even worse, they may end up having to use more of the former than the latter. Today's guest is a living example that people in STEM can acquire and master such interpersonal skills to excel both in their professional and personal lives.
Neil Thompson is a speaker, writer, entrepreneur, and professional engineer who runs Teach The Geek To Speak, an online course dedicated to teaching public speaking skills specifically to people within STEM. Neil started out his career by earning both a bachelor's and a master's degree in product development engineering. Since his company didn't hire a project manager, he was chosen to take on that role. However, what he didn't know was that it included giving project status updates to senior management on a monthly basis in the form of presentations. After some failed attempts, he realized he needed to improve at this. Now, he's combined all the things he learned over time with these monthly presentations in the form of an online course and has put it out to help others achieve the same level of mastery and further their careers.
Isaac and Neil walk us through the top tips regarding presentations, both related to how to act when giving them and how to structure our slides and visuals so that our audience can in fact listen to what we are saying. In addition, Neil paints a totally new picture of the difference between introverts and extroverts, as well as why the idea that introverts are not good at public speaking is the biggest lie ever.
Resources Mentioned
Teach The Geek – http://teachthegeek.com
Teach The Geek To Speak (Online Course) – https://civilengineeringacademy.com/teachthegeek
Teach The Geek (Youtube Channel) – youtube.teachthegeek.com
Neil's Children's Book (Ask Uncle Neil: Why Is My hair Curly?) – http://askuncleneil.com
Neil's Public Speaking Book (Teach The Geek To Speak) – https://www.amazon.com/Teach-Geek-Speak-Neil-Thompson/dp/0578410117
Toastmasters – https://www.toastmasters.org
If you need exams, solved problems or courses, make sure to check out our home base  – https://civilengineeringacademy.com
Haven't joined up in our free community?  What's wrong with you?  J/K.  Ok, just go there and join a group of like-minded civil engineers! – https://www.facebook.com/groups/1682344491800869
Join over 4000 engineers like you and learn the tips and tricks to passing the FE and PE.  We even have a free resource for you! – https://civilengineeringacademy.com/join-our-newsletter
Reach out to Isaac – [email protected]
Transcript of Show
You can download our show notes summary here or get our transcript of the show below!
Isaac Oakeson: Hey, what's up everybody? Isaac here with Civil Engineering Academy. I've got another fun podcast episode to do with you. This one is with Teach The Geek, Neil Thompson, who is a public speaker. He's an entrepreneur, he's an author. He started out in product development and he's earned his PE license, became a professional engineer. But what he quickly realized is that he didn't have great public speaking skills. And so, he went and created Teach The Geek. He also created courses and content to help engineers or people in STEM, the science and technology sector, to help with their public speaking skills. So he's been published in a lot of articles, and now he's got his own podcast, he does a lot of public speaking events as well. And so it's been a joy and a pleasure to have him reach out to want to jump on and talk about this because we, as engineers, are usually, you know, not great public speakers. I myself included, right? We can all do better. And so Neil's jumping on with me today. We're going to talk about how to become better public speakers, talk about, probably, his course material as well, things of that nature. It's going to be a fun episode coming up with Neil, right after this.
Isaac Oakeson: All right. So, welcome everybody. I got Neil with us today. Neil, how's it going?
Neil Thompson: I'm doing well. How are you?
Isaac Oakeson: Hey, I'm doing all right myself, despite all the stuff 2020 is bringing. But we're doing well. We're doing well over here. Neil, I will read in probably a short bio about yourself, but I wanted to let you tell us about yourself, how you got into what you're doing now, and even how you got into, you know, an engineering role and product management. Things of that nature.
Neil Thompson: Sure. So, you know, I went to school for engineering. My father thought it was a good idea. And so I took his advice and went to engineering. It worked out pretty well. I ended up working in medical devices, more specifically spine making or designing spinal implants and instrumentation. And the first job that I did at such a company, I had to be what's called a project lead. And essentially that meant that the company was too cheap to hire project managers. So, I had to take on that role. And one of those responsibilities was giving project status updates on a monthly basis in front of senior management, the CEO, COO, the VP of marketing, all of the people with corner offices. I had to give presentations in front of them every month and I wasn't very good at it. And I noticed a lot of the other engineers weren't all that much better at it than I was. But I got a lot better at it over time because I didn't want to look like a doofus every time I had to give one of these presentations. So, essentially, because of having to do them every month, I got better at it over time. And I took everything that I learned and I turned it into a course, an online course, and I called it Teach The Geek To Speak. And it's geared towards like myself, people that work in the STEM fields, engineers and scientists, who need to get better at public speaking or just presenting in front of people. And so far it's been going pretty well. I started it back in 2018.
Isaac Oakeson: Wow. That's fantastic. So, I'm just want to go back a little bit. Is your father an engineer?
Neil Thompson: No.
Isaac Oakeson: No. He just like, "It's a good field". Go do that.
Neil Thompson: Yeah. I think he thought engineering was suitable because of the stability of it. And, you know, you could get paid pretty well as an engineer. So I think that's pretty much why he suggested it.
Isaac Oakeson: Got you. And you also got your PE license, is that correct?
Neil Thompson: Yeah. So, that was actually -- I did that out of, just kind of the -- What's the best way to say it? The challenge of it. Because in medical devices there's very few. Actually, I don't really know of anybody who has the PE license.
Isaac Oakeson: I don't know either.
Neil Thompson: And so I just got it just to see if I could do it.
Isaac Oakeson: What discipline did you take that in?
Neil Thompson: Chemical engineering.
Isaac Oakeson: Chemical? Wow.
Neil Thompson: Yeah. So, getting that was interesting because I didn't think that I could study on my own and pass it because I don't have very good study habits just being by myself. I need some kind of accountability. So there was a chemical PE up in -- So I'm in California, in Southern California, San Diego. But he's up in Northern California by the Bay Area, close to Oakland. So I would fly up there for classes with other people. So he used to hold these classes in maybe about five or six of us. And, you know, basically just teach us what we needed to do to pass the exam. So I would leave work on a Friday evening, fly up to Oakland, rent a car, drive to Walnut Creek where his office was, rent a hotel for the night, then go over there and take the class, and then fly back the next day.
Isaac Oakeson: You're dedicated, man.
Neil Thompson: Yeah. I did that for about six weeks. Something like that.
Isaac Oakeson: Wow. Way to go.
Neil Thompson: Yeah. It's something that I really didn't need to do.
Isaac Oakeson: I applaud you. That's awesome. That's a challenging exam. That's what we try to help people with, but geared for civil engineers, obviously. So, that's awesome. Sois that what you're doing full-time now, is Teach The Geek, or do you still work as an engineer? Where are we at with that?
Neil Thompson: Well, I do a bunch of things. So, Teach The Geek is one of them. And I have another business with a couple of former coworkers where we help small medical device companies with their packaging projects. That business is called Sterile Lion. And then I also -- I became a patent agent a few years ago and I became one because the boss that I had at one of the companies I was working at, wanted all the engineers to become patent agents, so he wouldn't have to outsource any patent drafting to outside council. And so, I thought it was something I had to do. Apparently I was mistaken because none of the other engineers did it, only I did. So I became a patent agent. But then, wouldn't you know, he still outsourced all the patent drafting to outside council. So now I became a patent agent with nothing to patent. So, I ended up, for a few years, not really using it for much. But then eventually decided to go off on my own and draft applications for inventors. And I did that for a couple of years. The issue with that though is I wasn't getting all that many interesting cases just as a solo patent agent, just you'ree offering services out there. So, last year I joined up with a firm here in the San Diego area where I live, and we work mostly on life science, innovations, biotech, medical device, pharma, those types of things. And it's really been cool in drafting these applications and corresponding with the patent office. So I do that as well. And then I wrote a children's book a couple years ago too. So I got a bunch of things that I work on.
Isaac Oakeson: You're like the Jack of all trades, man. That's awesome.
Neil Thompson: I always followed my interest. That's all.
Isaac Oakeson: Yeah. That's a good way to look at it. I guess, you know, I'm probably doing the same thing. Started the engineering career. I still work as an engineer, but I started Civil Engineering Academy because I want to help other people. But yeah, I like where your head's out: following your interests. So, let's dive into your course, Teach The Geek. It's obviously built to help engineers learn skills. And what are you seeing out there as a whole in the industry for engineers needing to learn public speaking skills?
Neil Thompson: Well, in engineering school, you know, you're taught all the technical type of skills that you would be needed to do these jobs. But once you actually start working, you're not just working with other engineers, you're working with non-engineers. When I was in medical devices, we worked in teams. So I typically would be the product development representative, but there'd be a marketing person, a quality person, a manufacturing person, the regulatory affairs person. Not all these people were technical in their backgrounds. So, being able to communicate with them in a way that they could understand was really important just to be able to get your point across to the team. And then I also mentioned, I had to give presentations in front of management and a lot of them weren't technical either. So, you could have all the best ideas in the world. If you're not able to convince decision makers that these ideas are worth pursuing, then they'll just stay ideas. They will never be put into practice. So, just being able to talk to people and being able to get your point across, not using a whole bunch of technical jargon, because people don't really understand it. Just keeping people where they're at in mind when talking to them, it's all very important.
Isaac Oakeson: So Neil, was it your first presentation that you quickly realized that you didn't learn these skills? What was the story behind that and how you came up with this whole course? You just saw that your very first presentation wasn't going too well and you were like, "You know what? We need to work on that"?
Neil Thompson: Oh yeah. So, that first presentation was just -- It was terrible. And what I did is -- I was arrogant at the time. So I just slapped some stuff together on a slide, put it up there, read them off, and tried to get out of there as quickly as possible. I noticed that I wasn't doing a good job. The reason I knew that I had a long way to go in terms of improving my presentation skills is, the questions I was getting after the presentation, I thought I had answered during the presentation. But because I didn't present them in such a way that the people could take it and understand, I was getting these questions. And ultimately, you -- Well, you would've thought that I would have improved after that, but even the next few presentations, I didn't. I stayed cocky. I still just slapped some stuff up on the slides, got up there and read them. But you'd think I would have learned my lesson from the first time I did it. But, eventually, I did learn my lesson when my project got canceled. And I realized, now I'm looking back, perhaps I could have saved the project if I'm just better at communicating the importance of it. I guess we'll never know. But that certainly was the turning point for me in knowing that this is something that I really need to get better at.
Isaac Oakeson: That's great. That's fantastic. So, I guess diving into some of those skills, what are some of the tips maybe you could share with the audience about public speaking and presentations? Some things you could highlight?
Neil Thompson: For sure. So, the big one for me, for anyone really, is knowing the audience. As I said, I was just slapping stuff together on slides and getting up there. I wasn't taking the background of the audience into account when I got up there to speak. So, I'm sure I was using a whole bunch of words and jargon that the engineers would use that perhaps people in the audience, the decision makers especially, didn't understand. And if my goal was to convey information, I was doing a poor job of it. So, certainly knowing your audience is really important. And then when it comes down to it also, something I think a lot of us, just not even engineers, just people that present, don't take into account is timing. I have a friend that actually makes fun of me because of it, because whenever I give presentations and I'm given a certain amount of time, I stay within the time and I don't go over. Especially when you're in a work environment and people are busy, especially the decision makers, the senior management people, you really don't want to waste their time by going over time if you're given a certain amount of time to give your presentation. So, practicing your presentation beforehand to make sure you're within time, I think is really important. And that's definitely not something I did early on. As I said, I just put some slides together. I didn't know how long it would take me to get through the slides. It took me as long as it took me. But then, once I realized that, this is something I really wanted to try to get better at. Just being respectful of other people's time became more important to me. So, staying within time.
Isaac Oakeson: I was just saying, I've been in meetings where it's scheduled for an hour, and now you're there for an hour and 15, an hour and 20, and you're just kind of wiggling in your seat. You're ready to get out of there. So, I think that's valuable. A valuable tip.
Neil Thompson: Yeah, for sure. And especially if you got to stay late and they didn't provide any donuts and coffee, now you're really mad. Like, "Come on, man. You want me here 15 minutes late? At least provide some food", you know?
Isaac Oakeson: That's true. If it's one minute over, "Where's the food?"
Neil Thompson: For real. We'll get some lunch. So, another tip I have has to do with slides. And this is something I certainly was guilty of because as I mentioned, I used to slap some stuff together and I read the slides. So, people didn't actually see my face, the people in the audience, because I was looking at the slides. Either was I looking at the screen, you know, the projector screen, or looking at my computer screen. That's not very good way to convey information if you want people to actually listen to you. You actually want to look at the people that you're talking to. I mean, even when you're in a regular conversation with somebody, you're looking at them when you're talking to them, and you're not looking down, you're not looking at other places. So, a presentation isn't all that different. You should look at the people too. And then when it comes to the actual content of the slides, you don't want to read, because people will just read the slides. They won't listen to you. And ultimately it's about public speaking, not public reading. You could have just sent them the slides and they could've read them at their own convenience. You're there to, you know, convey something. And so you really want to minimize the amount of texts you have on the slide to essentially force the people to listen to you or eat well. I guess they have two choices, either they listen to you or they ignore you. So, essentially, you want to eliminate the choice of them reading the slides. So, Those are a few of the tips I got
Isaac Oakeson: Yeah. Those are some great points. Great points. I'm curious also, have you seensuccess in teaching somebody? Like, what's been the most satisfying part of this whole thing for you?
Neil Thompson: Yeah, for sure. So, obviously it started with myself. I saw the benefit in myself getting better at public speaking, but even the compliments and the testimonials I've been able to get from people going through the courses has been great as well. Initially, when I put the course together, I put out a camera on my kitchen table and just talked about the things that I thought were as important to public speaking. But then, I had a friend look over what I planned on putting out. And she said that "You can't put that out because it's terrible. The lighting isn't even good. You need to get a light or something". But essentially, she said that, you know, "You need to do this all over again. And what would be beneficial to you is make it more of a process". And when she said that, I felt kind of foolish, really. Because, as an engineer, at least in medical devices, we have to follow a process to develop medical devices. So, the fact that I didn't even think to make my course some sort of process, it was kind of embarrassing too, to say the least. So then I went back to the drawing board. I made it more of a process, a six-step process that you can go through to develop any presentation that you have to give. And I really liked it because it was repeatable. I like the course because it is fairly short, about 90 minutes. So it's not too long. I tried to eliminate as much fluff as possible so that people can get what they need to get out of it and implement what I talk about in the course right away. But so, yeah, getting that feedback from people liking the process, liking the online nature of it, liking the fact that I get to the point and don't have a whole lot of fluff in there, I think it's really appealing to people like myself, engineers and scientists.
Isaac Oakeson: That's great. That sounds like it's very streamlined to get what you need, so you can do your presentation and become a better public speaker. Where is that at? Just teachthegeek.com?
Neil Thompson: That's right.
Isaac Oakeson: Okay. That's awesome. Is there a myth or anything about public speaking you'd like to debunk?
Neil Thompson: Oh yeah. The big one that I hear about is when people talk about introverts not being good at public speaking. That's just not true. Honestly, I don't think people really understand what "introvert" means. So, I think a lot of times people think that introvert is the same thing as shy, but it's not. Introversion has to do with the ability to be around people and interact with people over time. It's just that, after we do it, we feel kind of drained. So I'm an introvert, through and through. So, after I interact with people for a while, I feel rather drained and I just need to have some time to recharge. The difference with extroverts is they get energy from interacting with people. So they're on a high afterwards. They want to do it again. For me, I want to go take a nap. I'm actually physically tired after sometimes giving these presentations in front of people. But it doesn't mean that I don't like giving the presentations. I very much enjoy getting up in front of people and talking about things that I'm interested in. So, that's the biggest myth.
Isaac Oakeson: Oh, that's a good point. I think I'm the same way, you know? If I'm doing a lot of public stuff, then I get drained. I need to go like Netflix binge in a room or something to kind of get your energy back up. But it doesn't mean you don't enjoy it, and it doesn't mean you suck at it. I think that's spot on. The other one, maybe you can touch on this, but if I remember right, public speaking is like the number one fear of everybody. It's like ranked higher than death. Like, people are worried about death, but public speaking is higher than that. What would you say to somebody that's just completely terrified about doing public speaking? How do you overcome that fear?
Neil Thompson: I've heard that too, that public speaking is the number one fear of people. And really, I guess to overcome it, you have to think -- At least how it helps me, is just thinking about the benefit of overcoming that fear. Things open up for you when you become better at public speaking. There are a whole lot of disgruntled engineers sitting at their cubicle right now, wondering why they can't get ahead in their careers. And oftentimes they look and see the people that are, and wonder why this person gets to where they're at. They're not any better than I am. But the reason, likely, that they got ahead is just being able to speak to people, being able to build relationships with the people that have the decision-make or the authority to promote people, to provide those pay raises. And when you've developed those relationships, that's what really greases the wheels in helping you to increase your visibility and move up within companies, and even change companies, just being able to build up a network. So, if there's any reason to get better at public speaking, it's just to benefit you, and I treat myself well. So, I really want to beat things that benefit me.
Isaac Oakeson: I'm glad you treat yourself well. Yeah, I think that's a great point. The people I've seen that have moved up have usually talked -- You know, they're a little more vocal. They're talking to people that have the power to make decisions,building that relationship there, but they're also willing to step up when called upon, right? "We Need a volunteer to do the safety presentation this month", you know? "Who's Going to run that?". And maybe that should be you. Maybe you should take the chance to do that because it's probably going to help you hone your skills a little bit. So, that's great. Neil, is there a personal habit that you feel like has contributed to your success, either as an engineer or a public speaker?
Neil Thompson: I think my -- Something that has really helped me is just being able to be honest with myself, and not thinking that wherever I'm at is where I have to stay. So, I mean, I did say that my project had to be canceled for me to realize that public speaking or presenting in front of people is something I should improve at. I could have just said "No, to hell with it. I'll just find another job. And hopefully I don't have to be a project lead anymore and not have to get in front of these people". But I saw the benefit or the utility in becoming better at public speaking. And then I took steps to get better at it. So, just being able to look within myself and realize there are things I need to improve on to benefit myself, I think that's something that's really helped me out.
Isaac Oakeson: That's awesome. This is just kind of a fun question, but what's the best advice you've ever received or good advice in general?
Neil Thompson: The best advice I've ever received is to go for what you want, and even if there are naysayers that say you can't do it, ignore them and continue on anyway. That's a big one for me. I mean, there's always going to be people that may say that there's certain things that you can't do. In fact, now that I think about it, I mentioned I got my PE a few years ago. I remember telling my boss at the time that was something I was going to do. And I remember him saying, "Why you doing that for? You're not gonna get paid any more because you got your PE". I could have just left it there and been like, "All right, I guess no PE for me". But, apparently, that wasn't the case. I was flying up to Northern California for six weeks, renting hotels and renting rental cars to go take a course with this chemical engineer up there. So, I certainly didn't let what he said stop me from pursuing what I wanted to do.
Isaac Oakeson: Wow. That's great advice. The problem I see in the civil engineering world is that a lot of engineers kind of get pigeonholed. They don't get to get experience in a lot of different areas of engineering before they have to kind of make a decision on which career they want to make. ButI think learning public speaking, like you said, opens a lot of doors. There's so many associations that they could be a part of that people would reach out to them and open up doors to different areas if they wanted to. So, I think that's good stuff. Is there a book that you would recommend our audience, the Civil Engineering Academy audience?
Neil Thompson: I recommended my own.
Isaac Oakeson: That's good.
Neil Thompson: Yeah. Yeah. So, I wrote a book a couple of years ago, not too long after I started the course. And, just similar to the course, it's not too long. I have a friend who makes fun of me, because he says that I only want to read short books, but I've actually looked into this. As time has gone on, books have gotten longer. So, if you were to look at the average length of a book from 50 years ago, it's less pages than books that are being made now. Yeah. So, I thought that was really interesting. And whenever I think of even reading a book, I'll go to Amazon and I'll read the one- and two-star ratings. I never read the five-star ratings. I always read the board ratings. I'm interested to see what people didn't like about the book. One of the biggest critiques I see about books is that they were unnecessarily long. You know, there was a whole lot of words and fluff in these books that didn't need to be there. The book could have been a fraction of the pages it was. So I made sure that, when I wrote this book, I wanted it just like the course to be, you know, fluffless, to the point, and just presenting the things that I think are really important when it comes to giving presentations. So this book clocks in, I think, like 120 pages, and that was definitely by design.
Isaac Oakeson: That's good.
Neil Thompson: You find out about that book at teachthegeek.com. It's called Teach The Geek to Speak.
Isaac Oakeson: Teach The Geek to Speak. Okay. We'll check that out. I'm just curious, is that on Amazon as well?
Neil Thompson: Yes.
Isaac Oakeson: Okay. Good. We'll link that in the show notes. We'll link that up there. That's great. This is just kind of a fun question I ask, but if you had all the resources and knowledge in the world, what's something you'd like to be a part of in the world of engineering in general?
Neil Thompson: I wrote this children's book a couple of years ago, and it's called Ask Uncle Neil: Why Is My Hair Curly? The book is about my nephew asking me why his hair is the way it is, and I use science to answer the question. The motivation for me writing the book was to promote STEM careers to black children, because black people are underrepresented in the STEM fields. The big thing, though, I wanted to emphasize is I want them to consider going into STEM. I don't want to promote STEM to people. And I always like to note that difference. With one of them, the latter, it seems more prescriptive. There aren't enough black people in STEM. We need more black people in STEM. Let's get more of them in STEM. I just want them to consider it. I don't want them to just cross it off for whatever reason. I want them to know that there are no careers that are off limits to them. And that's the main reason I wrote the book. So, if I had unlimited resources, it would be to go around the world and speaking to black children about considering careers in engineering and science, and just in STEM in general, and letting them know that it's for everyone, including them.
Isaac Oakeson: That's fantastic. Is that book on Amazon too?
Neil Thompson: It is.
Isaac Oakeson: We'll link that one too. That's great. Well Neil, I've appreciated this interview. This has been a really fun episode for me. I'm learning about public speaking, learning the tools and things that you've noticed from an engineer's perspective on how we can better develop public speaking skills. Is there any last piece of advice or anything you'd like to mention?
Neil Thompson: Sure. When it comes to public speaking, you can watch all the interviews, listen to all the podcasts, or read all the books you want, but you won't get better at it until you actually get out there and do it. And especially when I was -- I mean, I had to give presentations in front of work. So it was part of my job. But if it's not part of your job, look for opportunities to get out there and speak in front of people. And you certainly will improve over time, and getting better at public speaking opens up so many other avenues in your career and in life.
Isaac Oakeson: Would you recommend a place like Toastmasters or places where you can practice public speaking, things like that?
Neil Thompson: Absolutely. So I was a member of Toastmasters for a number of years, and Toastmasters offers a great forum to practice your public speaking. When it comes to public speaking, though, they can be rather prescriptive about what they believe, you know, effective public speaking is. I suggest, even if you're a member of a Toastmasters club, that you take the critique that you think is useful and leave back anything else. Just because someone gives you feedback doesn't mean you have to implement it.
Isaac Oakeson: Good advice. I'm just thinking from a civil engineer's perspective. Toastmasters is a good opportunity. I think you have opportunities to teach through a lot of different organizations, the ASCE or any other organization that you're a member of. Your workplace is obviously a great place to start with public speaking as well, whether it's like safety presentations or running your safety group or whatever that is, or showing off the project you're working on. There's just lots of opportunities. And so, I guess the whole takeaway is don't hide from those opportunities if you're looking to grow that skill, because it's going to open doors for you. So Neil, I appreciate this. This has been very fun for me. What's the best way to get ahold of you?
Neil Thompson: Well, you can go to teachthegeek.com. I also have a YouTube channel where I interview scientists and engineers who do public speaking, and it's been really interesting hearing their stories about how public speaking has benefited them. And you can find that at youtube.teachthegeek.com. And, about the children's book, you can go to askuncleneil.com.
Isaac Oakeson: Ask Uncle Neil. Okay. Guys, go check it out: teachthegeek.com. We'll leave some links about that course and you can go check it out. Neil, thanks for jumping on the show. I really do appreciate it.
Neil Thompson: Thanks for having me, Isaac.
Isaac Oakeson: All right. See you later.
Sign up to receive email updates
Enter your name and email address below and I'll send you periodic updates about the podcast.
Video
Other Great Content
CEA 48 – How COVID has Affected Construction Sites
The Best FE Civil Review Exam Prep Course & Practice Exam Test
CEA 47 – Women in Engineering and Transportation Advice with Melissa Brady
CEA 46 – Did You Know There Are Threats to PE Licensure?
The Best PE Civil Review Exam Prep Course & Practice Exam Test
CEA 45 – Intern Advice You Don't Want to Miss with Jeff Castillo