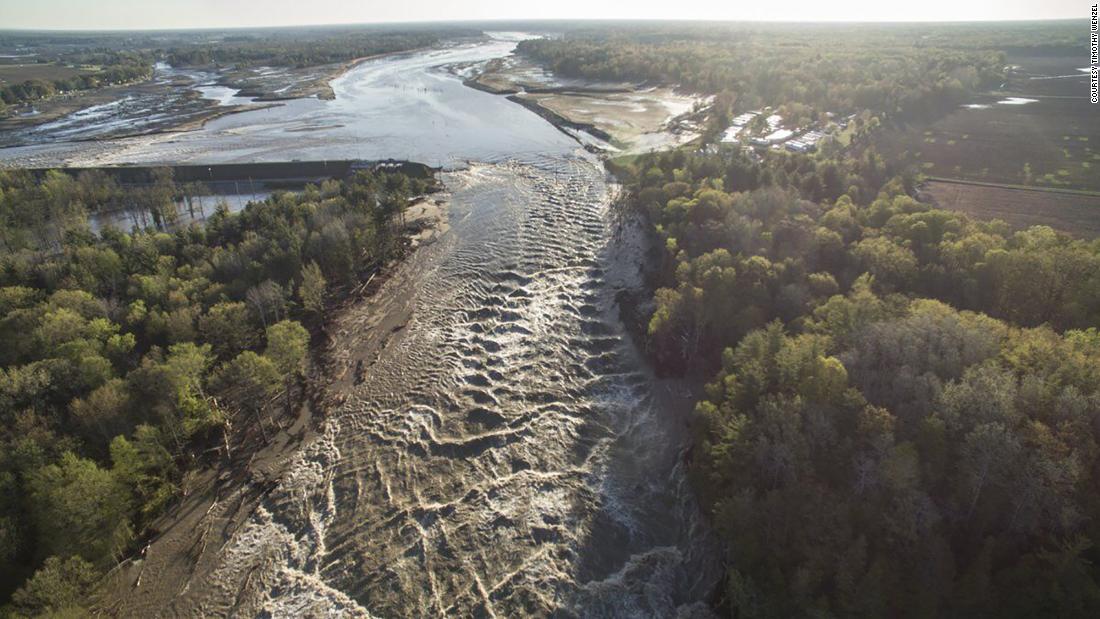 Introduction
Most of the time, people primarily relate the field of Civil Engineering to huge and magnificent structures, such as high-rise buildings and long-spanned bridges. These structures
demonstrate the capabilities of humankind in order to develop technologies that will optimize certain aspects of life. Dams, such as the Hoover Dam, are also among these structures and they represent one of the field's most remarkable achievements in meeting the needs of society.
However, dams are as susceptible to failure as any other structure, whether it is due to natural causes or design. Unfortunately, there have been several dam failures throughout history, from Brumadinho's tailings dam disaster in Minas Gerais, Brazil, to the most recent one in Michigan, USA, in which the Edenville Dam breached and the Sanford Dam overflowed, leading to immediate evacuations on Tuesday, May 19th, 2020.
In order to have a clear idea of what truly happened on this latest event, it is necessary to break down all the aspects that may have, or have not, led to it, ranging from external factors to design, maintenance and safety regulations compliance.
What Are Dams?
First of all, a dam is basically a structure that restricts the natural flow of water for specific reasons, such as storing water whenever there is an overflow in a river and managing water flows. These two functions provide dams with the ability to generate electricity for themselves and households as well as to prevent towns from being flooded.
The majority of dams are made up of earth materials, then called earthen embankments, and not steel or concrete, as the Hoover Dam. According to the Detroit Free Press, the Edenville Dam in Michigan is an earthen embankment built in 1924, with a storage capacity of 40,000 acre-feet of water, equipped with two turbine generators and licensed for hydro-power generating in 1998.
Earthen embankments are much more inclined to experience problems with their inner mechanics, given that these materials do not have the same strength as concrete or steel.
Overflows can lead a dam's walls to erode over time, especially if the area in which it is located is susceptible to rain and floods. With Michigan's Edenville and Sanford dams, it was not different.
Sequence Of Events In Michigan
Detroit Free Press reports the Tittabawassee River in Michigan rose to 28.25 feet on Tuesday morning, May 19th – a mark above the major flood level, which is 28 feet – after heavy rains had fallen in the state since Sunday, May 17th. Normal flood stage is considered to be 24 feet.
On Tuesday afternoon, the Edenville Dam breached, leading to immediate evacuations in the town of Edenville. The Sanford Dam, 16 miles downstream, immediately overflowed as a consequence of an increase in the inflow of water, although, according to NBC News, it has not yet completely failed. Detroit Free Press also reports the Tittabawasse River hit a historical new high on Wednesday morning, May 20th, rising above its previous 33.9-feet record, in 1986, and reaching 34.6 feet.
Michigan's Dams History
A superficial investigation of the situation would lead to a conclusion that is based on the heavy rains that had fallen in Michigan. Although they might have played an important role, there are some underlying factors that engineers should be aware of.
Given their functionalities mentioned above, dams are designed to withstand the worst storm possible in a specific location, called the Probable Maximum Flood (PMF), which is based on historical data for this specific location. However, designing such tall dams able to store this entire maximum flood can be incredibly expensive. Whether people like it or not, the financial aspect somewhat dictates the entire designing process of a project and its timeline. Check out CEA's post on how engineers can influence the cost of a project in order to better understand this aspect. With this impediment in mind, most dams are designed with what is called spillways, which are structures that can discharge water whenever there is a flood that can lead them to fail.
According to Michigan Live, Federal regulators removed the hydro-power generating license for the Edenville Dam in 2018, claiming the dam's spillway could not discharge enough water to prevent a total failure in case of a historical flood. Also, Detroit Free Press stated the dam's owner, Boyce Hydro, had failed to address the dam's safety problems for years, especially the dam's inability to withstand a major flood.
Furthermore, the American Society of Civil Engineers (ASCE) gave a "C-" grade to the state's dams infrastructure in a 2018 Report Card stating that the majority of the state's dams had reached their usual 50-year design life and suggested the creation of a state fund for the repair and/or replacement of failing dams as a way to improve the grade.
Conclusion
Michigan's dams failure raises a topic that most professionals in all areas – from state workers to employees in private engineering firms – are aware of, but still do not take it as seriously as recommended. It may not sound as important or interesting as other topics in the Civil Engineering field, but Ethics, loosely defined as a set of moral principles that govern an activity, is of huge importance.
Even though heavy rains in 2020 have partially contributed to the dams' failures as external, natural factors, which any structure is subjected to, the fact that Boyce Hydro had a record of safety violations before the disasters, and that it did not take measures regarding it, shows how important ethics can be. Nevertheless, state officials have heard from the ASCE in the 2018 Report Card that their state's dams were high hazard potential dams and again, few to no measures were taken.
As mentioned in the ASCE Code of Ethics, the lives, health and welfare of the public, in this case, depend on decisions made by Professional Engineers and all the other people, directly or indirectly, related to the dams. As soon as engineers get their PE license, they are held accountable for every decision they make. In order to understand more about Ethics in the PE Exam and how to approach it, check out the episode of the Civil Engineering Academy Podcast on the topic.
Civil Engineering affects the general public in all aspects, whether it's via small size residential constructions or huge infrastructure projects, like bridges and dams. The failure of any of them represents a failure of the field as a whole and that's why ethics is important. Professional Engineers deal with the wellbeing of those they may never get to know, and this provides the means to positively impact millions of people by taking Ethics seriously and simply choosing to do what is correct